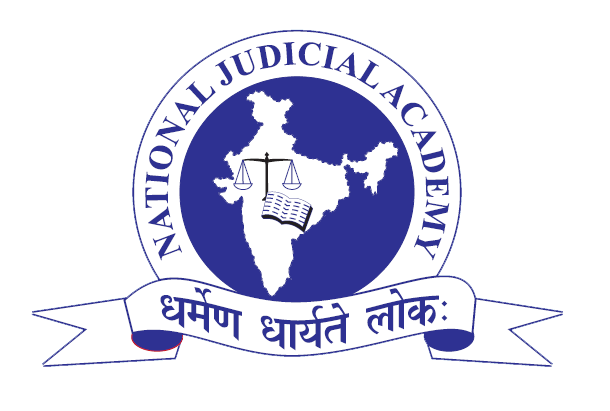 Internship Programme
The National Judicial Academy invites applications for full time (residential) and part-time (non-residential) internships from students of 5 year LL.B programmes. Fulltime interns will be required to participate in a variety of activities, including research, writing, and helping in the organization of conferences and seminars.Part time interns will be associated with specific research projects and will be required to provide research assistance for the same.
Objectives:
To provide students with exposure to cutting edge issues facing the judiciary, and to give them a platform to engage in discussions with leaders in various fields of law and related disciplines.
To provide the Academy with assistance in its research and publication activities .
Eligibility:
An eligible candidate will:
Be enrolled in a 5 year LL.B programme.
Have a good academic and co-curricular record.
Have good computer skills relevant to the work profile, like proficiency in online-research and familiarity with common MS Office applications.
We strongly encourage students from the third year and onwards to apply.
APPLICATION PROCEDURE: Applicants are required to send their applications through their college/university/law school. The Application should consist of the following: (i) Forwarding letter from the concerned authorities (for example the placement committee or the registrar) of the university/law school/college, (ii) Covering letter by the applicant (with contact details, expression of interest, and proposed duration of internship) (iii) CV. The applications should be sent by post at the following address:
Internship Co-ordinator,
National Judicial Academy,
Bhadbhada Road,
P.O. Suraj Nagar,
Bhopal 462044.
A scanned copy of the application can also be e-mailed to: internship @nja.gov.in Please mention 'for Internship' in the Subject column.
Selection Criteria: Selection will be based on the academic and co-curricular record of the candidates. Record in research and publication will also be taken into account. The shortlisted applicants will be required to send a piece of writing for final selection. If the need so arises, NJA may also conduct telephonic interview of the candidates.
Duration: The minimum duration for full time internships is 3 weeks. Part-time interns will be associated with specific projects and will work with the Academy for the duration of the project. They are not required to be in residence, and can work from their place of study.
Accommodation and Remuneration: Residential interns will be provided with a furnished accommodation at the NJA campus for the duration of their stay. They will also be entitled to a monthly stipend of Rs.5000. It will not be possible for the Academy to provide remuneration to part-time interns. They will however be reimbursed for all costs incurred in their work for the Academy.
Applications: Please write to internship @nja.gov.inor nja@nja.gov.infor any clarifications or follow up queries.
Website: http://www.nja.nic.in/
Subscribe to Latest Posts !