Women: Goddess or God-less?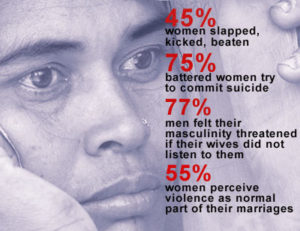 The Global campaign for elimination of violence against women in the recent years indicates the enormity as well as seriousness of the atrocities committed against women that are being witnessed the world over. Unfortunately, crime against women and their exploitation has multiplied many folds in recent years in spite of a number of laws to protect and safeguard their interests.
The above said is evident from the given statistics-
– Rape takes place once in 29 minutes
– Sexual harassment once in every 53 minutes
– Molestation once in every 15 minutes
– Cruelty by husband/relatives every 9 minutes
– Dowry death every 77 minutes.
Such incidents are a matter of serious concerns and its containment is a necessity so that the women in India and every part of the world attain their rightful share and could live with dignity, freedom and peace, free from crime and aspersions.
Various offences against the women as described under various sections of the Indian Penal Code(IPC) just aim to curb the above said by attaching punishments to create a sense of awe in the mind of the on-doer.
The offence is cognizable, bailable, compoundable with the permission of the court and triable by any magistrate.
Do you really think that'll work, eh? To protect the modesty of women, such offences should be made non bailable, should be tried by only magistrates of the first class and description of term of imprisonment should be raised.
Similarly, many offences such as sexual harassments , sale etc of obscene books and objects, selling and buying for the purpose of prostitution or even words, gestures and act intended to outrage the modesty of women has defeated the hard work on the part of Government to reduce the aspersions against the women.
The offences relating to marriage have on the other hand have increased more than the fuel prices. The offences of Adultery and Bigamy are as common as Mondays, Tuesdays so on and so forth.
Now before you vent your spleen and go around bashing our 'public-servants' for creating such naïve laws, remember that these laws were drafted into the Indian Penal Code, 1860 under the British Rule in India. The prevailing conditions at the time were such that women were looked at as being weak and as the mere property of a man. Nonetheless, there's no hiding the fact that today the situation has changed for the better and women at par with the opposite sex.
The basic mindset of the people regarding the exploitation of women should change. Their dignity is above all. Laws and their implementation would only be successful to the limit if the people want them to be successful and fruitful.