[highlight]By  Geetashree S Kurup , Student, National Law University and Judicial Academy, Assam[/highlight]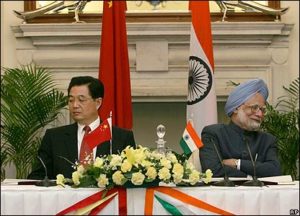 Few relations like that of China and India aptly fit in it. India and china relations have moved a long way since the brief and bitter wars yet they still defy the topographical mess and have trapped their relationship in an impasse. Both the countries have witnessed the changes in their sovereign power that has brought in the border conflict between their peaceful coexistence on account of their natural separation by the mighty Himalayas. The North Frontier of India "The Himalayas" has indeed always acted as a barrier that has kept away India and China from any political, military confrontation for centuries. After that India got Independence Himalayan frontier was accepted as a part of her Independence. On the other side of the border China also emerged as an independent "People's Republic of China". Since from 1949 to 1958 China never ever objected about her traditional frontier with India. However the silence was broken when India made some tactical misjudgments in the events leading upto the 1962 war.
The post civil wars have seen progress on the border issue that seemed to has come to almost a complete stop in recent years, despite the existence of multi-tiered mechanisms to facilitate resolution. But looking at the present tension I would only say that inspite of their engagement through trade, defense dialogue and high-level visits there always existed a "trust deficit" which had impeded cooperation when both parties have sought closer engagement with each other's adverse situation.
Recently the [1]border disputes seems to have arisen again between India and China along their border the Line of Actual Control (LAC), in the Ladakh area in the Indian state of Jammu and Kashmir that are escalating despite bilateral meetings attempting to defuse the situation. India has since called on the Chinese soldiers to withdraw, but several meetings between local army commanders and diplomats from both sides have failed to resolve the stand-off. It has been [2]accused that a team of China's People's Liberation Army entered 10 km into Indian provinces and set up their troops and tents at Raki Nala, 30 km south of Daulat Beg Oldi in northern Ladakh. In retaliation, the Indian army deployed some troops to the area, pitching tents around 150 meters from Chinese army tents.  
However China rejects the reports of intrusion by its troops in Ladakh explaining that the People's Liberation Army soldiers patrolled the Chinese side of Line of Actual Control without "trespassing" into it.
Mean while the Prime minister has quoted that that the border issue could be solved. Also Foreign Minister [3]Salman Khurshid said he would head to Beijing on the coming week sharing a talk which China regarding the issue. But the facts remains that the solution of the dispute doesn't only lies in talks but the deep uprooted evil must be removed has an existence since from the British colonialism.
Is there any "THE END" to the story?
[highlight]A solution to settlement is impossible if there's a clear direction to the issue .Subsequently the two parties should attempt to expand their cooperation in this dispute by having firm control over public opinion and their share in the disputed area. Moreover both states should eventually practice aggressive such tactics and solutions that do not produce a threat to their  success of negotiations. On the other side India's political system must have an effective responsibility to deal effectively with China .And if India and China are to turn their pages and go on resolving differences; both will have to re-evaluate their relations with Pakistan. This is because the arming of Pakistan with nuclear and missile capability by China will jeopardize India if their disputes rise to an extreme level. In conclusion Hostilities in a way always bring an end to a nation's ego after all it's the people who suffer the utmost destruction. India and China should mind this fact as peaceful coexistence will only give rise to economic stability and a welfare state.[/highlight]
---
[1]http://www.policymic.com/articles/37373/india-and-china-border-dispute-will-their-meeting-resolve-anything retrieved on April  27th ,2013
[2]http://indiatoday.intoday.in/story/chinese-incursion-in-ladakh-flag-meet-between-india-and-china-military-commanders-fails/1/267310.html  retrieved on April 27th 2013
[3]http://www.nation.com.pk/pakistan-news-newspaper-daily-english-online/national/26-Apr-2013/indian-fm-to-visit-china-amid-border-spat retrieved on April 27th, 2013
Subscribe to Latest Posts !