This post has been written by Shelal Lodhi Rajput, student, Symbiosis Law School, Pune.
In the wake of 2008 during great depression or  financial crisis, which hits all economies of world very badly, a new innovation in field of economy for transactions is created in 2009 by someone, who goes by pseudonym of Satoshi Nakamoto, who now known as Father of that thing, which is popularly known as Cryptocurrency in present time. The very first cryptocurrency which is created is known as Bitcoin.   The seeds of Cryptocurrency were implanted in the 1980s itself by David Chaum. The topic is in news as the most of the worlds developed nation in a way or other using Cryptocurrency of various forms for trading, but in India we don't have legal tender for cryptocurrency as per mandate of Reserve Bank of India but once again we see that for the rights of individual and with the innovations in technology Apex court comes with a landmark ruling for the industry of Cryptocurrency.
What is Cryptocurrency?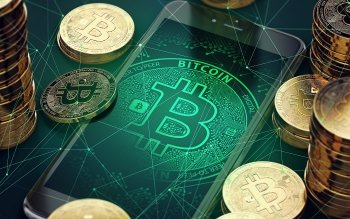 "It is a digital currency that operates in a decentralized manner and uses encryption, be decentralized here we means that no central bank (like RBI) or government regulate this currency. It is in virtual form and  not tangible like ordinary money (coins etc.)."                                                                                               
"A cryptocurrency is a digitalized or virtual currency that is crypted by algorithms which make it impossible to counterfeit or misuse of it. It is internet based medium of financial transaction"
Indian Scenario               
In India the legal tender for cryptocurrency was not valid until the decision of Apex court came,  there are various bitcoin used all over the world for trading and financial transactions. After launch of Bitcoin a number of cryptocurrency were launched in competition to Bitcoin . But here we have to notice that in India they were working in a lacunae of any regulatory vacuum. There was not a clear, specific definition which defines what is cryptocurrency  and also no law that prohibited or regulate their use. This situation prevailed until April 2018, when the RBI issued a circular.  The Central Bank of India (i.e. RBI) had imposed a ban on cryptocurrency trading in 2018 that barred banks and other financial institutions from facilitating "any service in relation".  It is the need of hour that we have to keep ourselves updated with changing time as it is must for survival according to theory Survival of fittest by Darwin, as if you want to survive you must be fitted into the present situation and time. Here we also have keep this in mind and see the analogy as in sense of chagrining technology for financial transactions in the future time,  that's why the issue for legalizing  of crypto currency might be putted  in front of Apex court of nation, also the ruling can be seen as a watershed for crypto in India.
An interesting fact to known before we procced further in Indian context for cryptocurrency, as bitcoins were never traded, as it was mined that it is difficult to assign a monetary value to bitcoins, in 2010 someone decided to sell theirs for the 1st time for two pizzas by swapping by some amount. In the present time its worth is more than $100 million. The trends of cryptocurrency getting in trend very much after 2010 and there were many alternatives launched for Bitcoin, and in 2013 the pricing of Bitcoin started falling down, in the 2014 scams and thefts related to cryptocurrencies started growing up and its a very bad year for this industry but in 2017 Bitcoins especially at its peak and continual growth from 2017 again, in 2018 in India RBI declared that transaction involving cryptos as illegal. It all started from here in India that now we can easily use Cryptos as now they are legal in India.
The Apex court in Internet and Mobile Association of India v. RBI, delivered ruling by three judge bench presiding over the matter: Justice R.Nariman, S Ravindra Bhat and V. Ramasubramanian, in the 180 page long judgement, authored by Justice V Ramasubramanian, the joint verdict stated that the ban, which was issued as a precautionary measure by the RBI in order to protect the nation's economy, had not been sustained by any hard facts. The court found that RBI has power to regulate virtual currencies, but the circular of April 2018 imposed a prohibition which is not fair and it is disproportionate. Court also said that RBI imposed ban which is unreasonable and by exceeding the limitations prescribed or permitted under Article 19(6).The whole judgement may be divided in three parts for broader perspective, they are as First the order upholds the principle of fairness and equal opportunity, secondly, the ruling would raise questions on how our regulators understand themselves nd their role and jurisdiction further on court said that RBI was formed under Act of parliament and cannot supersede or exceed the rights and freedoms given to citizens under the constitution. Third, the ruling of Apex court tells us regulation is not an absolute right or power. In toto the verdict  nullify the arbitrariness of regulatory actions even thought it does not disgrace it at all.
Arguments which made a watershed ?
From the very beginning it is argued by technology lawyers of Nishith Desai Associates which represented Internet & Mobile Association of India that the circular date by 5 April, 2018 by RBI  is violating Article 19(1)(g) and 14 of the constitution of India. In its 104- page written submission, among the major arguments put forward by counsel on behalf of IAMAI was that RBI  Had no capacity to issue such a circular which is against the fundamental rights of citizens. Also it was argued that cryptos are not money or legal tenders but only goods or commodities, so RBI Act,1934 and other act cannot be applied here or simply cryptos are falling outside of the said Act. On the basis of the inadequacy on the part of counsels of RBI to prove that no empirical data on the degree of harm occasioned by dealing with the cryptos or had any direct or indirect loss on account of their dealings with the exchanges of virtual currencies or cryptos, court held that therefore circular offended the doctrine of proportionality and is in contravention with Article 19(1)(g).  As  a core from the judgement Apex court stated  "The petitioners are entitled to succeed and the impugned Circular dated 06-04-2018 is liable to be set aside on the ground of proportionality" — Supreme Court of India on the RBI circular banning banks from facilitating cryptocurrency-related transactions."  
What's Next: Concluding remarks   
 The apex court in its verdict stated that now cryptos are legal n India, so what next. Now the industry needs to continue to show that it is responsible and self regulate. Also, now government must need to take action on it by coming up with a regulation that will protect the interest of consumers in industry. After the verdict, the big names of industry has also demanded that cryptos must be included in the RBI's regulatory but here we get to see a irony as the counsel argued that as crypto is a goods or commodity so it doesn't come under the Acts related to RBI, then now hoe RBI may include crypto we have to see it in future development if there is any change on same. But we have to note that central banks all over the world issuing their own cryptocurrencies, on the same lines RBI is expected to come out with same, this might also increase the chances of blockchain development in India in coming years. Last but not least, we have to keep in the mind about the various scammers, hackers and miscreants may take the advantage of the verdict to use it in a bad way and may by same consumers in industry suffer great loss, so what by these its simple the whole crypto giants are eagerly waiting for a regulations to be established, if not then we might  once again  get to see the same situation which was happened in 2014  and again all the fingers will be pointed  at Bitcoin and other cryptos. L. Viswanathan, Partner, CAM, said that RBI will definitely reconsider it approach on cryptocurrencies with keeping in mind the era of technology and also regulatory power of RBI are wide.
Reference 
[1] India Back in the Race: Landmark judgement to fuel crypto adoption https://cointelegraph.com/news/india-back-in-the-race-landmark-judgment-to-fuel-crypto-adoption                                                                                                      [2] Decoding the Supreme court's cryptocurrency judgment https://www.bloombergquint.com/opinion/decoding-the-supreme-courts-cryptocurrency-judgment                                                                                        [3] Cryptocurrency Vs RBI https://inc42.com/features/cryptocurrency-vs-rbi-the-sc-judgement-and-the-aftermath-in-india/    [4] Cryptocurrency legalized https://www.vidhikarya.com/legal-blog/Cryptocurrency-Legalized#                            [5] Economic Times