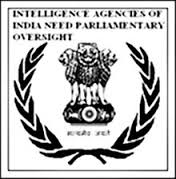 John Stuart Mill had once commented that the most appropriate tasks of a legislative body are to oversee and clarify government actions and compel the executive to provide reasonable and rationalistic justifications for its actions, which in modern day political terminology is referred as "Parliamentary Oversight". Parliamentary oversight is one of the most essential and fundamental characteristics of a "Democracy".
Today, a large number of working democracies of this world have adopted this distinct but important aspect of "Transparent Governance". India, too has adopted this procedural aspect of democracy, but exclusions are defence sector, to a limited extent, and most importantly the "Intelligence" Agencies.  The reason given for this "exclusive" immunity granted is National Security. In today's world, when we hear about thousands of cases of "disputed" encounters reportedly on the pretext of "input" given by a 'certain' agency, I believe for the cause of Justice and Just Governance, scrutiny of every kind of executive action is imperative for the continuity of the Legitimacy of The State.
Last year a private member's bill was introduced in the Lok sabha for bringing the actions of the two foremost intelligence agencies of the country i.e. R & W and I. B. Under public scrutiny, this had to face intense debate. The irony of India is that in our Country "Patriotism' is considered as the private property of 'certain class of people who are also active in politics' and these are the people who adamantly and abruptly misuse the immunity granted to agencies under National Security Apparatus. The argument given by these "patriotic" fanatics is that such a move to scrutinise the actions of these agencies will result in degradation of the morale of our security forces, the real reason why these people are afraid of such a scrutiny is because such a scrutiny will obviously unearth the truth of Fabricated information system which is biased against a particular section of society. When we talk about Parliamentary oversight and other such moves, the aim is not to degrade the morale of our security forces but the aim is to legitimise their say so that their inputs and their integrity remains always beyond doubt. This attempt to make intelligence agencies accountable to public will also ensure that these two seminal agencies function effectively without ambulating each other's turf.
The best example of how we lack public scrutiny over these important sectors is the case of Intelligence Bureau or I.B which has no legal or constitutional framework by which it is governed or which established it. It only has a 125 years old Government Order or G.O. of the British Imperial Government to justify its existence and to proclaim its raison d'être. Not only this, even the very famous "institutions" like the National Counter Terrorism Centre or N.C.T.C, The National Intelligence Grid and even the Aadhar Project are not governed by any legal framework.  Then there are legislations like the Official Secret Act (O.S.A) which provide immunity to these agencies and to their covert actions and again here also the Right to Information Act doesn't apply.
Today's era of unrest demands a transparent and open model of governance in which every actions of the organs of the government are open to public scrutiny.