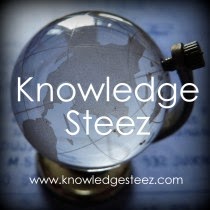 Knowledge Steez is running a slogan writing contest for 
www.knowledgesteez.com
looking for a catchy and motivating tag line. Check out the website theme to get idea of what it should be through this link:
http://www.knowledgesteez.com 
Requirements: 
1. The slogan must not be copied from anywhere else. 
2. Copyrighted or trademarked content must not be used. 
3. Any submission after the submission date will not be entered into the competition. 
4. All entries will be posted on facebook page of knowledge steez  
www.facebook.com/theknowledgesteez
 .
1 Like = 1 Vote
5. Any entry which shall not be able to gain votes shall be disqualified. 
6. Only one submission per user is allowed Last date for submission is 

10/June/2014

. 
7. Submissions using fake accounts, fake likes , click fraud etc will automatically disqualify. 
8. Top 5 voted slogans will be reviewed by our team and the one winner will be announced on 

20-june-2014

 on our website. 
9. We have the right to announce the winner of the competition without any declaration to the participants. 
10. We will contact the winners by email to ask them for their account and other details for verification purposes. The 
winners will be guided through these emails for further steps. 
11. By entering into the contest you hereby transfer and assign all intellectual property rights (including, but not limited 
to, copyright and trademark) in and to the drawing and description, to knowledge steez.com.  
12. By entering in the contest you also agree to abide by the above rules and grant us the right to edit, publish, display,
promote, broadcast and otherwise use your entry, along with the your name without further permission, notice, or 
compensation, in any media now known, or hereafter developed. 
13. The finally selected slogan becomes our property and may be used for any purpose determined by us.
14. All disputes related to the contest will be taken care by team knowledge steez.
15. Knowledge Steez retains the write to disqualify any participant not following above guidelines.
Important Dates:
(1) Deadline for submission of slogan : 
10/June/2014
(2) Voting Starts on 
11/June/2014
(3) Voting Ends on 
18/June/2014
(4) Final selection and results on : 
20/June/2014
Please submit Your entries at 
niteesh_marshal@yahoo.co.in (including full details about name, college name , email address of the participants  )
win cash award (worth 1000 INR) , and acknowledgement for your work and opportunity to work with us.
The Knowledge Steez  current tagline: Opportunities knocking the door