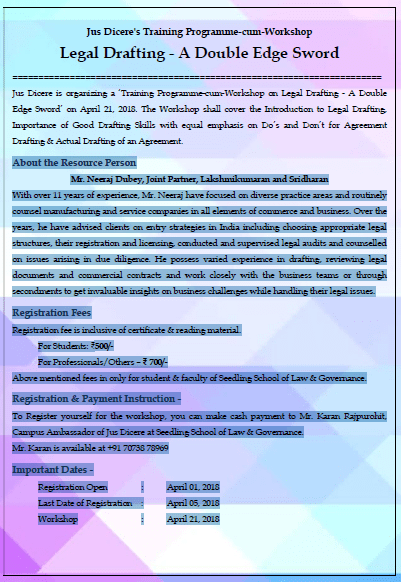 Jus Dicere is organizing a 'Training Programme-cum-Workshop on Legal Drafting – A Double Edge Sword' on April 21, 2018. The Workshop shall cover the Introduction to Legal Drafting, Importance of Good Drafting Skills with equal emphasis on Do's and Don't for Agreement Drafting & Actual Drafting of an Agreement.
About the Resource Person
Mr. Neeraj Dubey, Joint Partner, Lakshmikumaran and Sridharan
With over 11 years of experience, Mr. Neeraj have focused on diverse practice areas and routinely counsel manufacturing and service companies in all elements of commerce and business. Over the years, he have advised clients on entry strategies in India including choosing appropriate legal structures, their registration and licensing, conducted and supervised legal audits and counselled on issues arising in due diligence. He possess varied experience in drafting, reviewing legal documents and commercial contracts and work closely with the business teams or through secondments to get invaluable insights on business challenges while handling their legal issues.
Registration fee is inclusive of certificate & reading material.
For Students: ₹500/-
For Professionals/Others – ₹ 700/-
Above mentioned fees in only for student & faculty of Seedling School of Law & Governance.
Registration & Payment Instruction

  – To Register yourself for the workshop, you can make cash payment to Mr. Karan Rajpurohit, Campus Ambassador of Jus Dicere at Seedling School of Law & Governance. Mr. Karan is available at +91 70738 78969
Registration Open : April 01, 2018
Last Date of Registration : April 05, 2018
Workshop : April 21, 2018
Subscribe to Latest Posts !