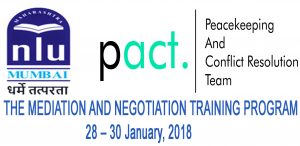 The MNLU-PACT Mediation and Negotiation Training Program is a joint initiative to empower law students, lawyers and professionals, especially the young generation, in the concept of consensual dispute resolution (CDR). This program will provide participants with the core mediation skills and hands-on experience through a variety of simulations.
The program will enable the participants to understand the legal framework governing mediation, and the role of a counsel as a pro-mediation lawyer. The training  would be a combination of theory and roleplays. The extensive simulations involving roles as clients, counsel, and mediators, case studies, and an overall feedback will provide the participants with the opportunity to have real-life application and development of their skills in consensual dispute resolution.
In today's environment, the absence of effective negotiation is often the single largest contributor to disputes and the lack of success. The Training Program also focusses on effective communication and negotiation, areas that are valuable for law students in boosting their profiles, especially if they are aiming for a career in Consensual Dispute Resolution.
Important Dates
Last Date for Online Application – 08.01.2018    

Extended to 22nd Jan. 2018

Provisional Confirmation of Acceptance of Application – 10.01.2018
Last Date for Remittance of Fees (NEFT/DD) – 12.01.2018
List of Selected Candidates – 13.01.2018
Duration of Course – 28 – 30 January, 2018
Fees
The Fees for the Course is Rs. 6, 000 only.
Tea and snacks will be provided to the participants.
The accommodation is limited and is on chargeable basis. Participants have to apply separately.
The fees can be submitted through NEFT or DD drawn in favour of Registrar, Maharashtra National Law University Mumbai.
Name of Bank A/c: Maharashtra National Law University Mumbai
A/c No.: 915010046322292
IFSC Code: UTIB0000233
Branch: Marine Lines
(Note: Number of seats are limited. Admission to the course will be on first cum first basis.)
Contact Person
Mr. Rajneesh Bharadwaj – +91 9930852505 – Rajneesh@mnlumumbai.edu.in
Mr. Chirag Balyan – +91 7799197841 – Chirag@mnlumumbai.edu.in