IP ASSISTO: CALL FOR POSITIONS
We are inviting applications to join the IP Assisto team in various capacities. The interested applicants can send their Curriculum Vitae for specific positions in various domains: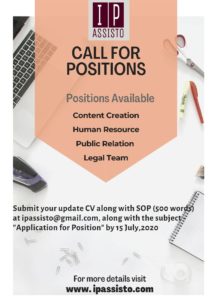 Content Creation:The student team will write short notes, summary or case comments of IPR Cases, create posters on numerous foci related to IPR laws.
Research and Development & Legal team / Litigation:The student team will have to conduct extensive research which will help in filing patents, copyrights, etc. and also File patents, copyrights, trademarks, etc.
Media and Marketing, Public Relations & Dramatics Team Division:The student team will promote the project and conduct various awareness drives in different areas, focus on Circulating e-posters through email, mailing-list, WhatsApp, Facebook, and Twitter and/or Utilize official websites and social media to spread awareness about IPR amongst students and also spread awareness and educate people about IPR laws and practices in India by performing Street/Stage Plays at various events organized by Knowledge Steez.
Human Resource:To arrange and promote continuing education related to IPR. To promote, conduct & cooperate in the promotion or conduct of activities of a professional, educational, cultural, and social nature amongst the law students.
Duration: 6 Months
Interested Students should send soft copies of their latest Curriculum Vitae
A Brief Statement of Purpose (not to exceed 500 words)
Procedure of Application:
Mail your resume to ipassisto@gmail.com with subject 'Application for _______ (Mention the domain you are applying for).
Last Date to Apply: 15 July 2020
Benefits:
On successful completion of the tenure of 6 months, the team member will be entitled to a certificate of completion and a recommendation letter (to the selected team members). The work is voluntary in nature and no remuneration will be provided for the same.
Other Benefits Include:
Attending events as a representative of IP Assisto.

Training/ Assistance in Scholarships/ International Conferences.

Opportunity to meet distinguished personalities of the field.

Opportunity to appear in patent filing forums. 

Free training on filing patents, copyrights, trademarks. 
Contact for further details:
E-mail: ipassisto@gmail.com
Or, Contact:
Aakansh Prakash- +91 8860734215 
Ritu Chaudhary- +91 9599176226 
For more details, visit: www.ipassisto.com