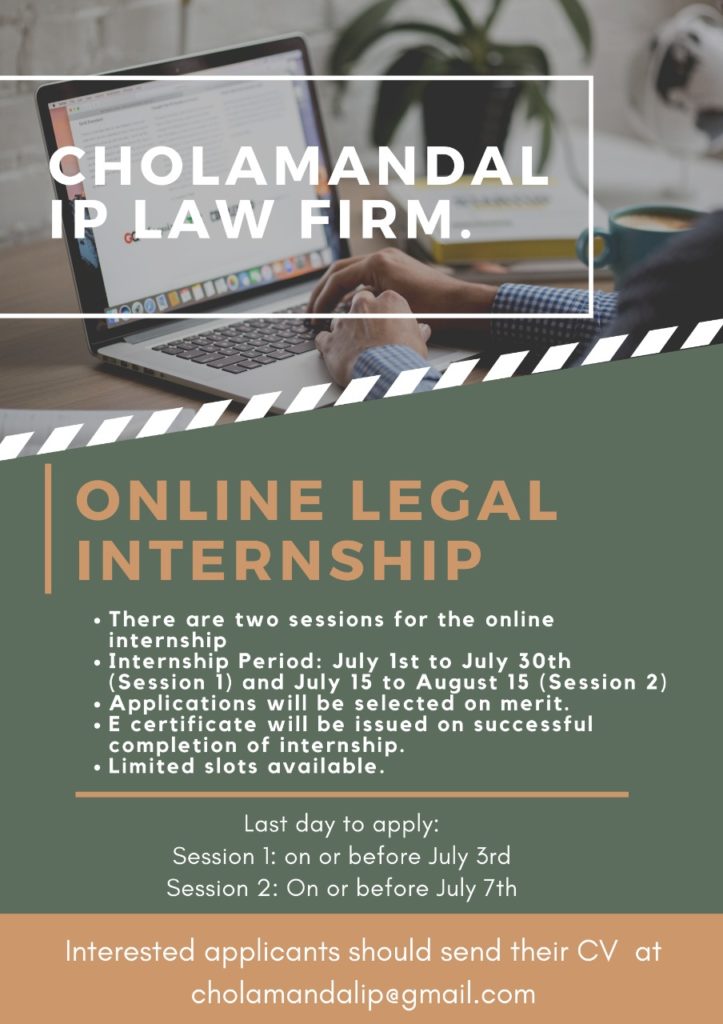 Cholamandal IP is an Indian law firm with a global perspective. Found in 2016, Cholamandal IP is proficient in the areas of IPR, Media Law, Environmental Law and Competition Law. The firm's Senior IPR Attorney, Mr. P Sanjai Gandhi has rich experience of about more than 18 years in the field of IPR. The firm offers expertise on registration, litigation and enforcement of Patents, Trademarks, Copyrights and Geographical Indications, Designs and Plant Variety Protection.
 Due to the present government restrictions imposed across the country due to the COVID-19 pandemic, we are pleased to announce that we are admitting students to our virtual internship program which will commence from the end of this month. The internship will be conducted in two sessions. Session 1 will be from July 1st, 2020 to July 30th, 2020 and Session 2 will be from July 15th, 2020 to August 15th, 2020. It is a four-week internship.
This opportunity is open to students who are currently in their 3rd/4th/5th Year of 5 Year LLB Course and Final Year of 3 Year LLB Course. E-Certificates will be provided to all Selected Interns after successful completion of the Internship.
Applications will be selected purely on merit. The interested applicants can send their CV to cholamandalip@gmail.com with the subject line "Application for Online Legal Internship at Cholamandal IP".
 Last day to Apply :
Session 1 : On or before July 3rd, 2020
Session 2 : On or before July 7th, 2020
Only limited slots are available…Grab your slots at the earliest !!!
Subscribe to Latest Posts !